Bidding farewell to winters in a way is to look forward to exploring the best places to visit in India in April with the onset of summers. As it is a known fact that summers in India have the ability to prick one to the core, here's a list of best tourist places to visit in April in India where one can relax and enjoy with affordable India tour packages.
Kashmir
In the words of Jahangir, if there's ever a heaven on earth, it's here" and having said that, he's absolutely true about Kashmir and its natural beauty. Whenever there's a mention of top 10 places to visit in India in April, Kashmir always tops the charts being a natural paradise. The best of Jammu and Kashmir tour is often the first choice of travelers when it comes to beating the heat in summers.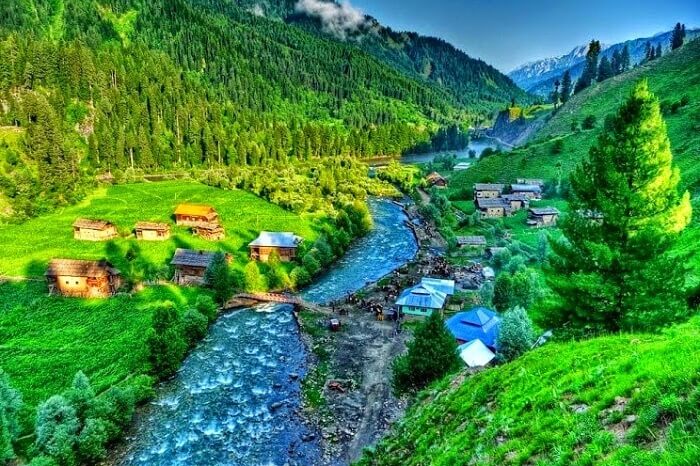 Weather in April: The weather in Kashmir during the month of April is a little dry but it can rain anytime in Kashmir. Usually, the temperature ranges from 14°C to 21°C in April.
Major Attractions: Jammu city, Srinagar, Leh, Gulmarg, Kupwara, Sonmarg, Doda, Pulwama, Pahalgam and many more.
Things To Do: Take a Shikara Ride in Dal Lake, trek through the Zanskar Ranges, go mountain biking in Ladakh, enjoy skiing in Gulmarg and much more.
How To Reach:
By air, travelers can take domestic flights from major cities in India till Srinagar domestic airport.
The nearest railway station is that of Jammu which is located 290 kilometers from the city center.
Reliable and economical bus services can be availed from nearby cities as well.
Dalhousie
Your list of places to visit in India in April month is totally incomplete if you haven't included the much famed summer retreat of Dalhousie. Surrounded by the snow-clad mountains and being one of the top 10 cold places to visit in India in April, Dalhousie completes every joyous Himachal tour package at any given time.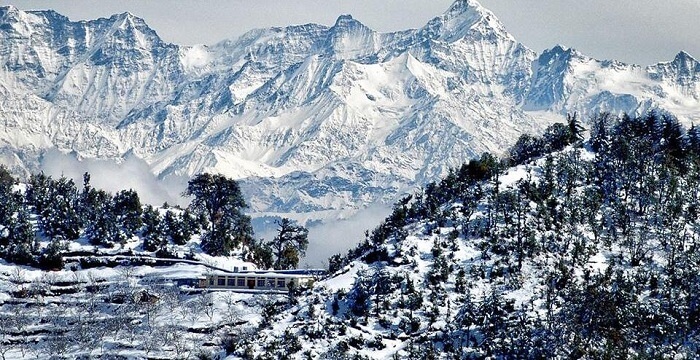 Weather in April: Dalhousie enjoys a pleasant climate during summers. The average temperature that has been recorded is a maximum of 26°C so far.
Major Attractions: Kalatop, Panch Pulla, Chamera Lake, Dainkund Peak, Sach Pass, St. Patrick's Church and more.
Things To Do: Go sightseeing at Panch Pulla, dive into Satdhaara Falls, enjoy boating at Chamera Lake, explore the Kalatop Wildlife Sanctuary and much more.
How To Reach:
Pathankot is the nearest airport as well as nearest railway station located 75 kilometers and 80 kilometers away respectively.
You can also take a bus from Delhi or Chandigarh to Dalhousie and enjoy scenic views on the way.
Dharamshala
This little gem of Himachal Pradesh is one of the surreal places to visit around India in April. Encircled by mighty mountains and lush greenery, Dharamshala redefines the beauty of nature and holds the capability of surprising you with snowfall too. Enjoy sightseeing of the ever beautiful Dharamshala which is often combined with a tour to Dalhousie.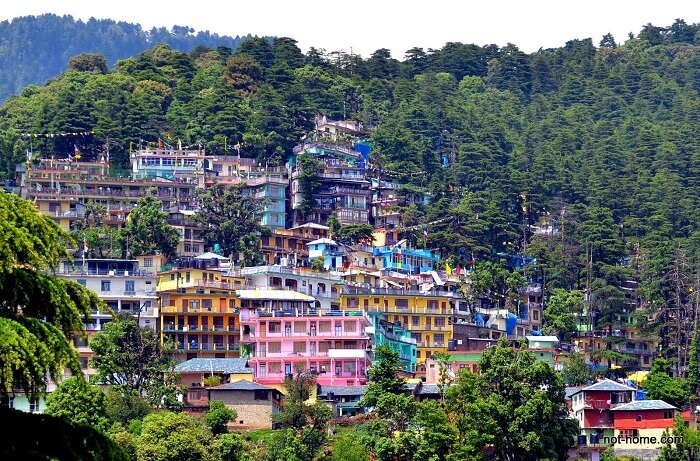 Weather in April: Dharamshala usually is warm in the daytime during April whereas in the night, it can get equally cold. The maximum average temperature is around 24°C and it can also rain anytime in Dharamshala.
Major Attractions: HPCA stadium, Tibetan Museum, Kalachakra Temple, Kangra Valley and the War Memorial.
Things To Do: Fly high with paragliding, trek to Dharamkot, go on a sightseeing tour, enjoy trekking to Kareri Lake, camping at Lahesh caves and much more.
How To Reach:
Gaggal airport is the nearest airport located just 13 kilometers away from Dharamshala whereas Pathankot railway station is the closest at a distance of 85 kilometers.
You can also book luxury volvos and buses through private bus operators as Dharamshala is well connected with major cities in North India through roadways.
An overnight journey can take minimum of 12 hours to a maximum of 15 hours.
Manali
Nestled amidst the majestic Pir Panjal and Dhauladhar ranges, Manali enjoys its central location in Himachal Pradesh and offers scintillating views of the Himalayas at its best. Covered with dense pinewood forests, Manali is one of the best snowbound places to visit in India during April.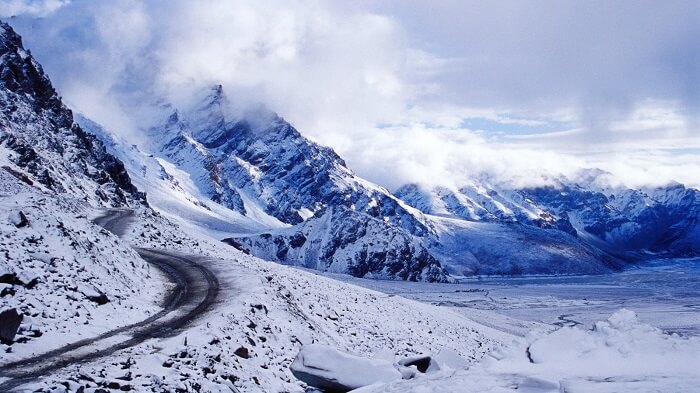 Weather in April: Manali enjoys a delightful weather during the summers wherein the temperature ranges between 10°C to 25°C.
Major Attractions: Hidimba Devi Temple, Jogini Falls, Solang Valley, Rohtang Pass, Bhrigu Lake, Pandoh Dam and Great Himalayan National Park.
Things To Do: Enjoy sightseeing in Manali, Go paragliding and rafting in Solang Valley, Feel relaxed at Shri Hari Yoga Ashram, bike through the Rohtang Pass, ride a yak at Manali wildlife sanctuary, shopping at Mall road and more.
How To Reach:
Bhuntar airport is the nearest airport located just 50 kilometers away from Manali.
You can also take the private and state-run buses from destinations like, Delhi, Leh, Dharamshala and so on.
Khajjiar
Recognized as the Switzerland of India, Khajjiar should totally be on your list of good places to visit in India in April. Surrounded by snow-clad mountains on all four sides and owing to its natural beauty, paragliding in Khajjiar attracts a lot of travelers throughout the year.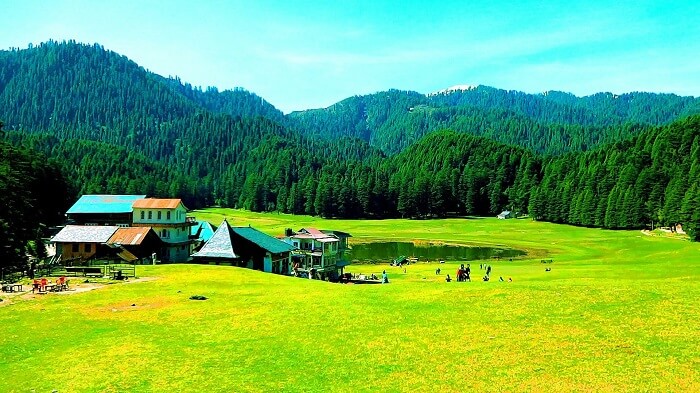 Weather in April: Khajjiar enjoys a mild climate throughout the summers and the temperature is between 17°C to 30°C.
Major Attractions: Khajjiar Lake, Golden Devi temple, Khajj Nag Temple and Tibetan Handicrafts Center.
Things To Do: Enjoy the Khajjiar trek, go paragliding and zorbing, explore the Chamera Dam and visit Bhuri Singh Museum.
How To Reach:
You can reach Khajjiar from Khajjiar Dalhousie that is 22 kilometers away and Chamba which is 24 kilometers away.
The nearest railway station is that of Pathankot from where one can take reliable taxi services.